COCONUT PEANUT BUTTER MOLD-ABLE TREATS
INEXPENSIVE, QUICK, EASY AND ORGANIC
It's their junk food aisle when you shop treats and if you're like me you can't help
but not buy your dog treats anytime you pass them in a store.
It can get pricey picking the best of the best too.
I have two dogs that I can share some of my vitamins with but I had to make them more appealing.
It cost $10 to purchase the minimal organic ingredients needed for this recipe.
It can yield over 350 treats.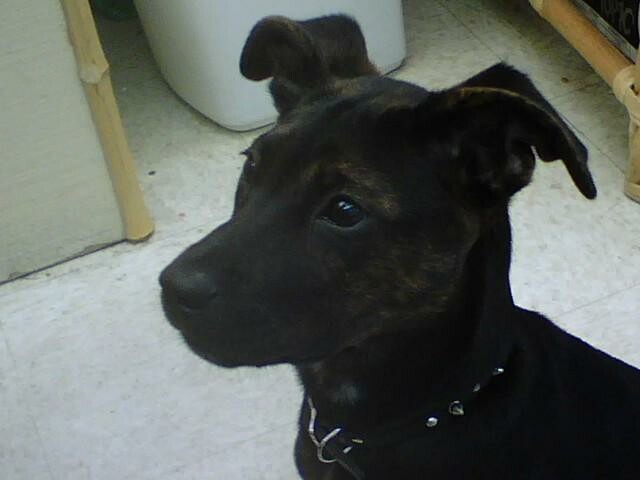 The past few years I have been doing a lot of DIYs
I make my dogs so many amazing recipes from calming to motivation.
After my first few DIY projects, I realized how cost efficient and easy it really is.
So, I expanded and started making dog treats too!
Can it still be called DIY?
It was simple to start doing this right away
considering most of the ingredients needed are already in your kitchen.
Like this one!
It's so good. Your dogs will go crazy.
There are 3 reasons right away to love this recipe as much as your dog is going to.
1. Minimal Ingredients and Control
I read the ingredients on the back of all the treats. This recipe literally has 3, three ingredients.
2. Cost Efficient
You're not kidding about saving big bucks this way!
If you were to make the largest batch you could, it would yield over 350 treats.
It cost $10 to purchase the 3 the ingredients shown
and you
would have two ingredients left over that you use anyway.
3. Time
I kid you not it takes me more time to read about the treat and order it online.
It takes even longer when I go to the treat aisle in the stores.
This took me 15 minutes. From start to finish.
From gathering the ingredients around the kitchen to washing the dishes.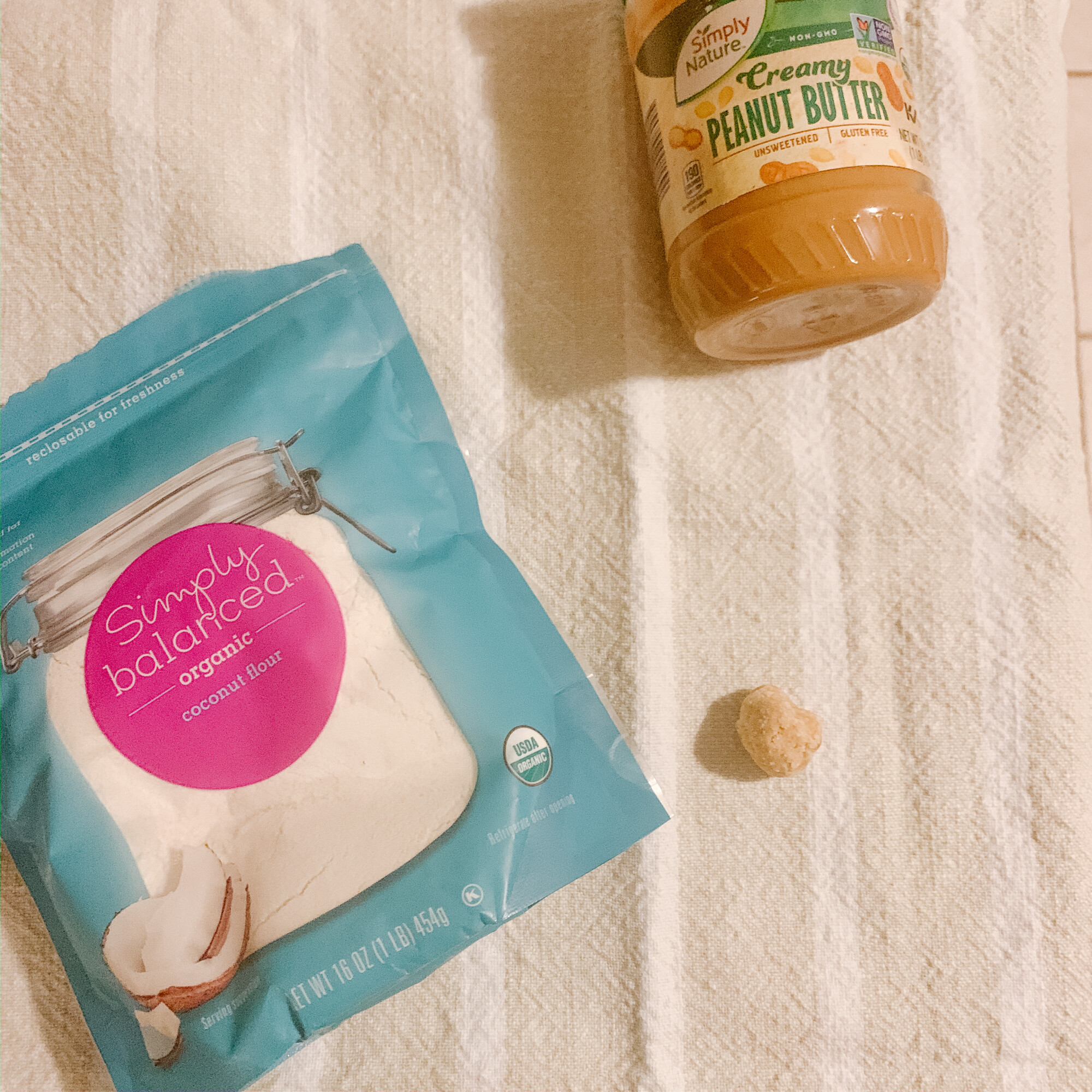 Organic Coconut Peanut Butter
2 TABLESPOONS ORGANIC, CREAMY PEANUT BUTTER
4 TABLESPOONS ORGANIC COCONUT FLOUR
2 TABLESPOONS ORGANIC WHOLE MILK
IN A BOWL, MIX INGREDIENTS UNTIL DOUGH LIKE CONSISTENCY
ROLL INTO A GIANT BALL
BREAK INTO PIECES
PUT IN THE FRIDGE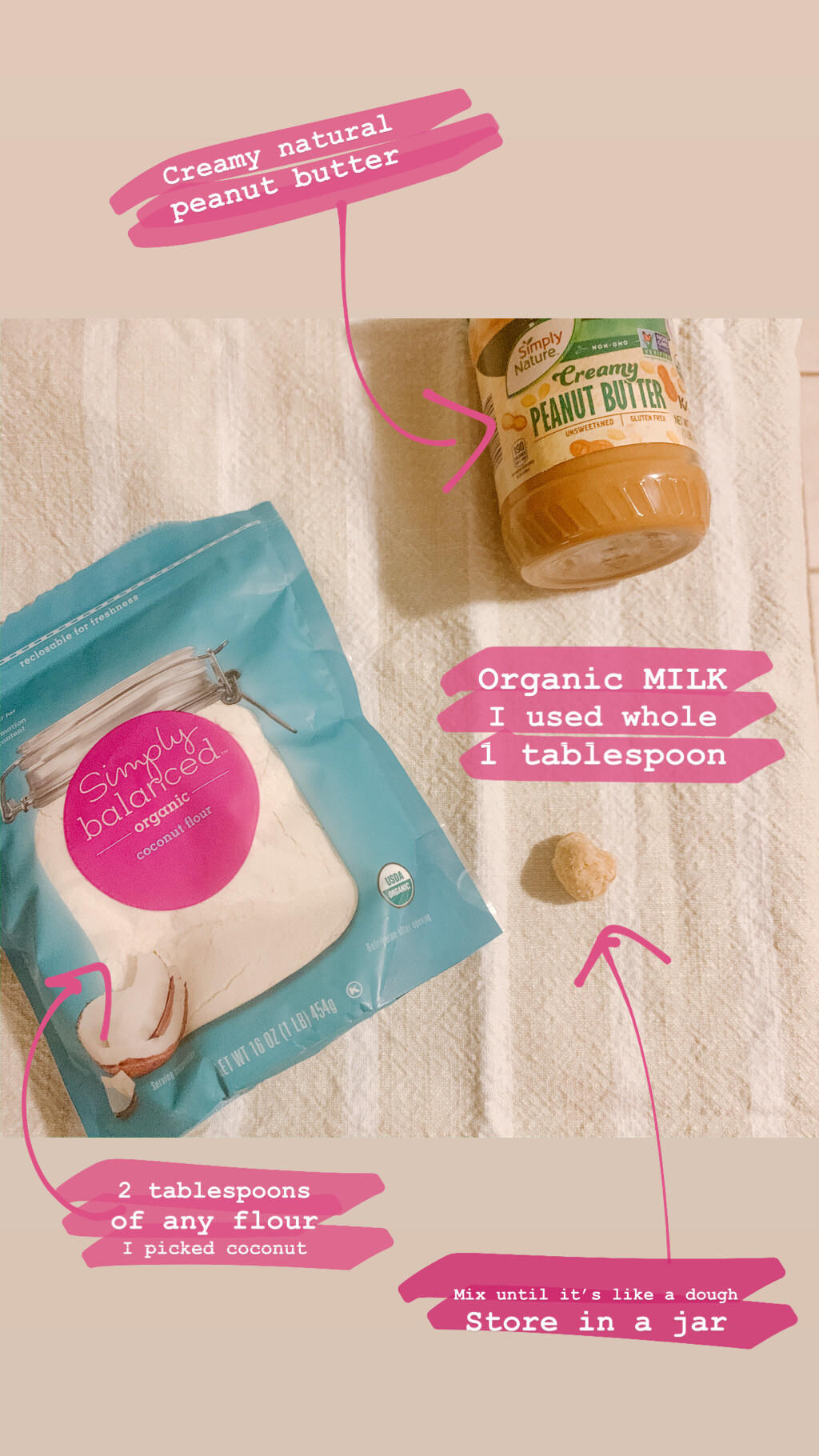 Most recipes I looked up for a mold-able type treat
called for regular flour but all I had was coconut flour.
You can use any flour basically.
I like using organic, unbleached flours and coconut flour.
For this recipe, the coconut flour made it!!
WANT TO MAKE IT EVEN EASIER?
Repeat steps above without milk
Doesn't need to be in the fridge