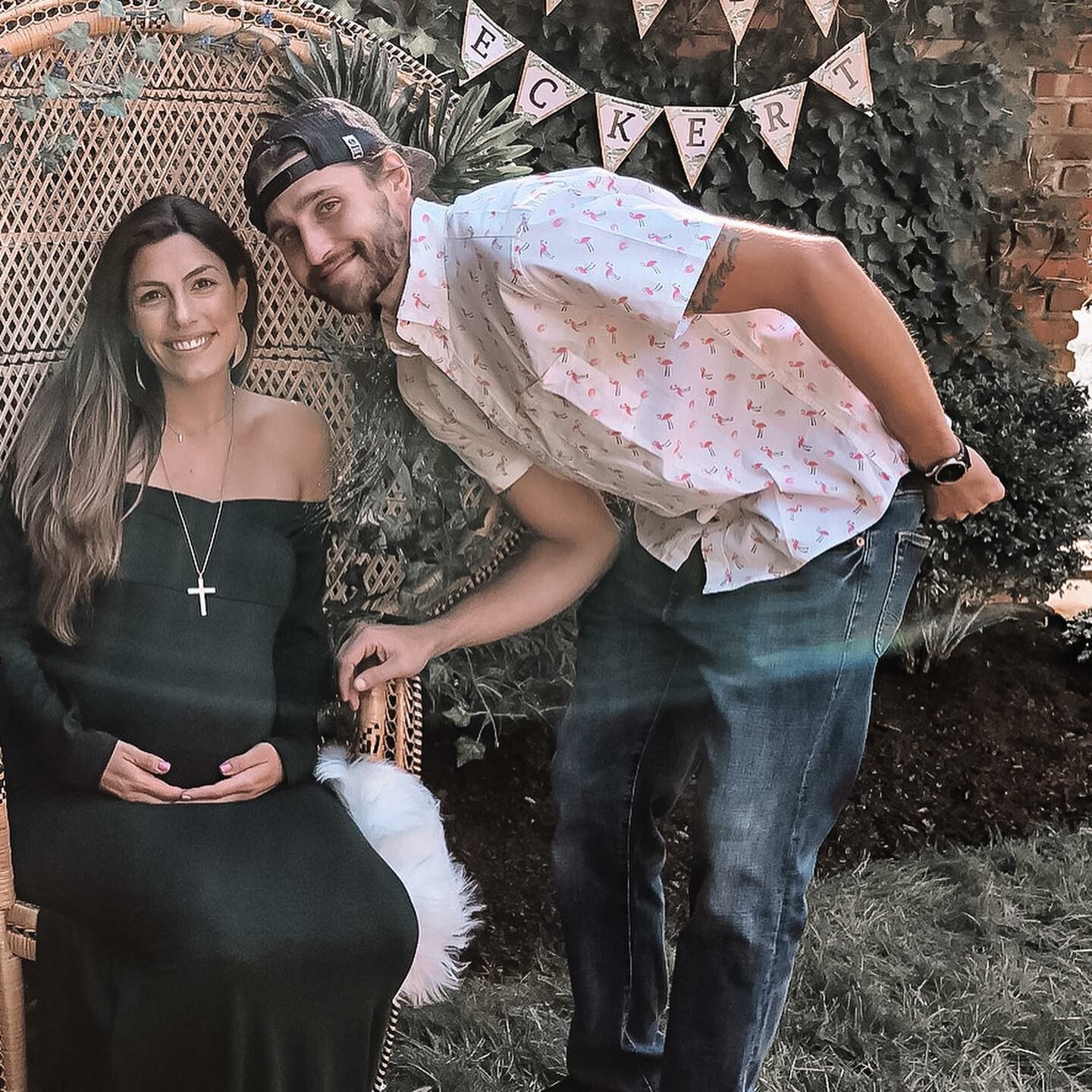 Our baby shower was simply gorgeous and themed so perfect.
With beautiful hunter greens, gold and natural botanical gardens all over
there was no better setting to celebrate our baby boy than in the woods at Grandma's!
It was the perfect Botanical Gold Dinosaur theme.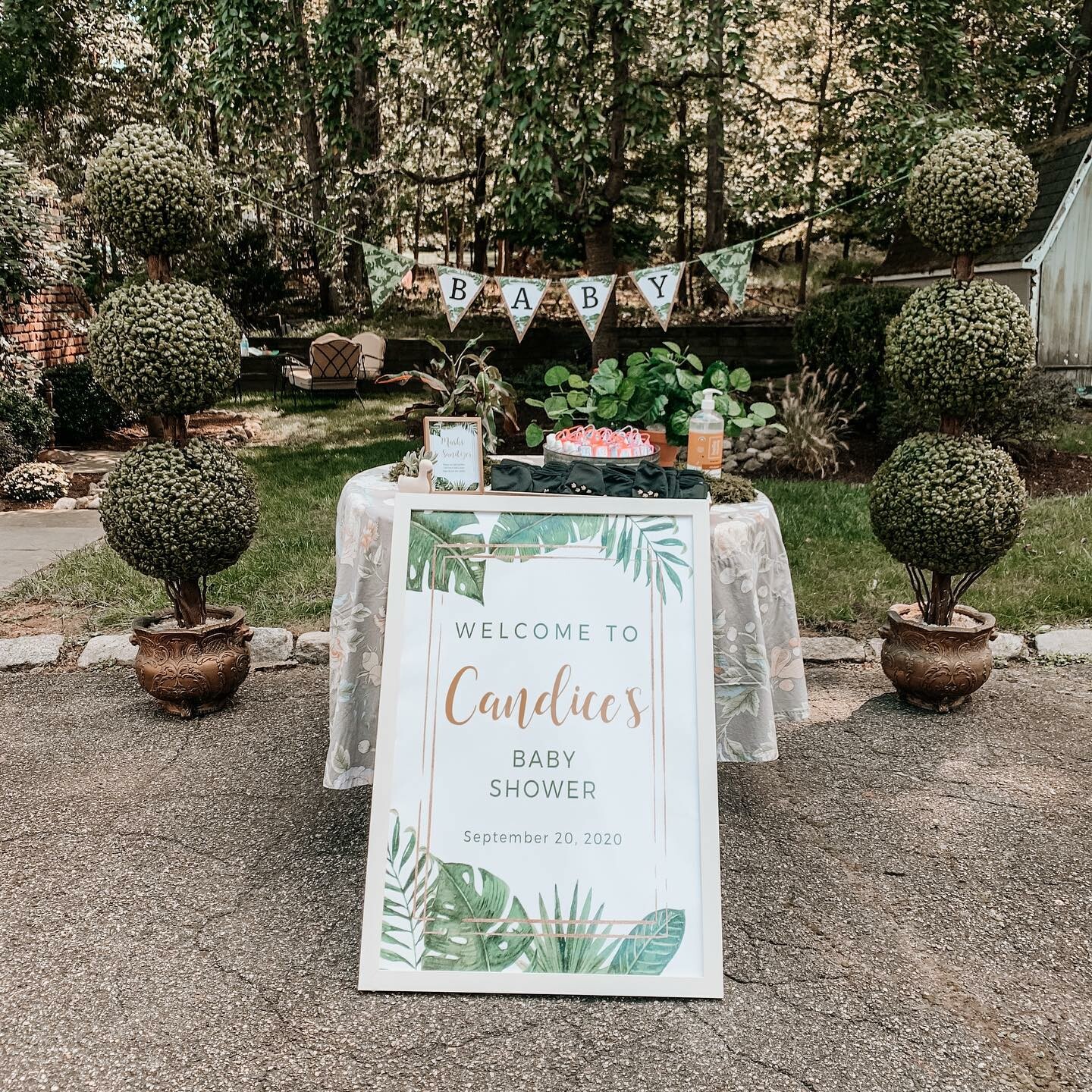 The theme still has hearts in my eyes, the menu was perfect and everything was just
put together so beautifully. We celebrated baby boy outside with gorgeous brick walls, natural landscaping and tons of gold dinosaurs.
The Decor
We even made our own balloon banner and not for nothing, mom and dad did a pretty good job! I say we are definitely prepared for parenthood if we are judging off our balloon banner! haha.
But really, how adorable did it come out?
We picked it up on amazon and I also purchased a balloon inflator. At the end, there is a link with everything to shop. Oh and say hi to soon to be big brother Bentley Beasley Elmer! He was the life of the party after multiple escapes from the basement.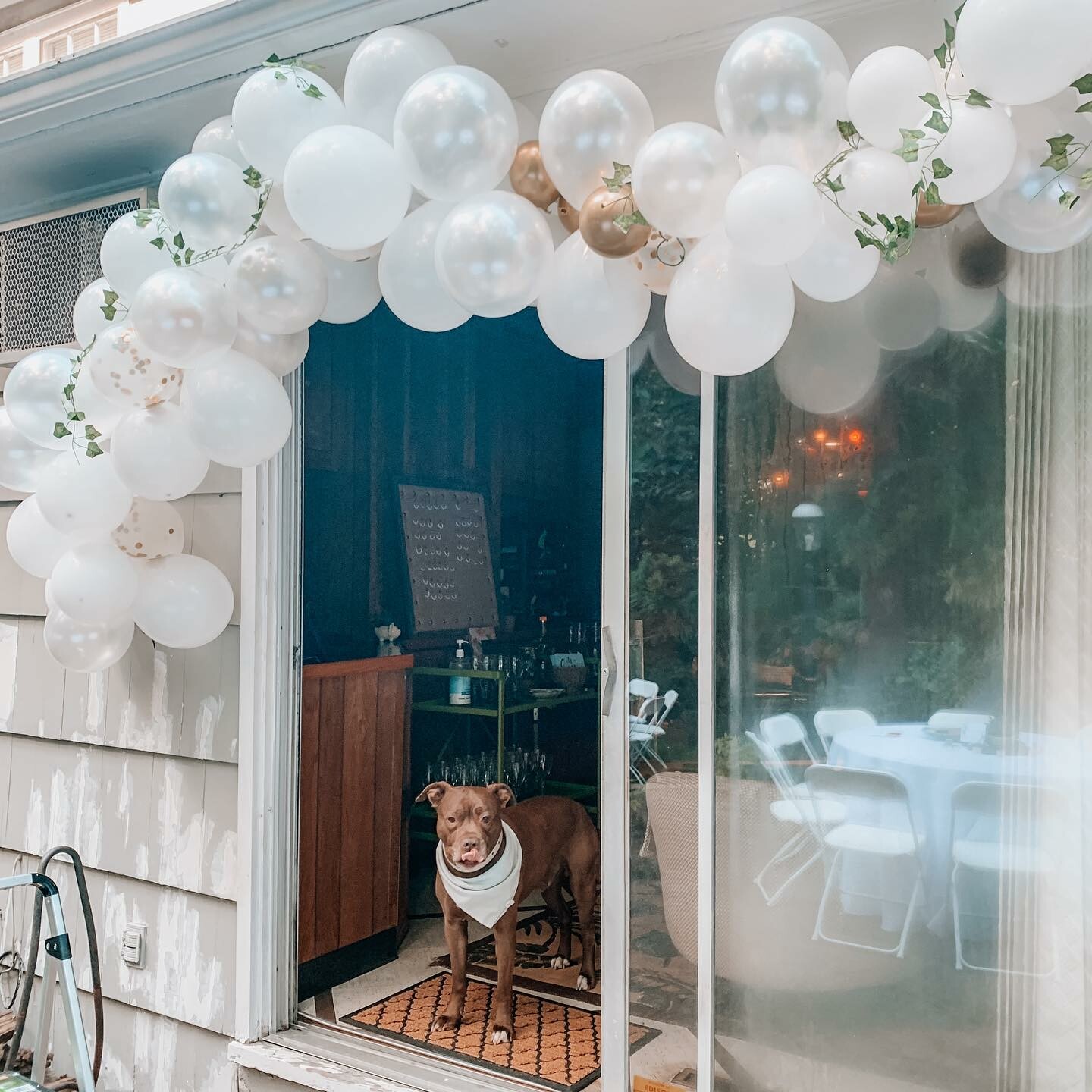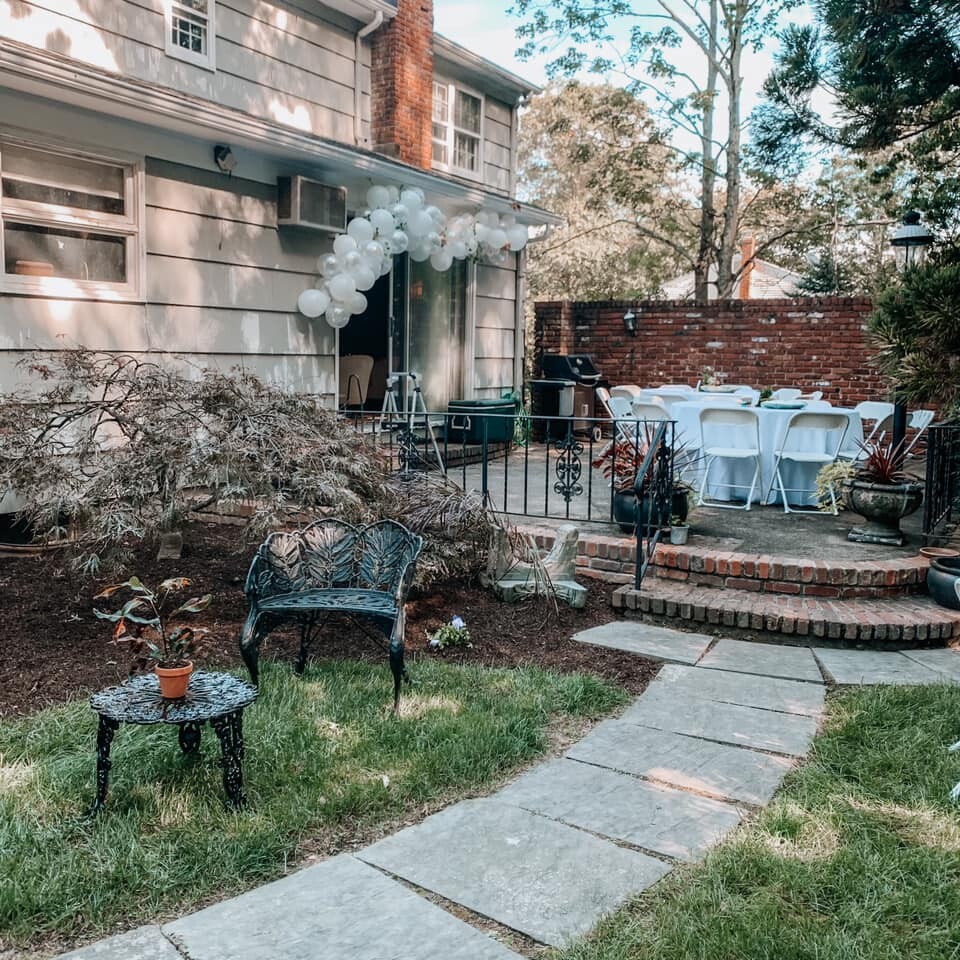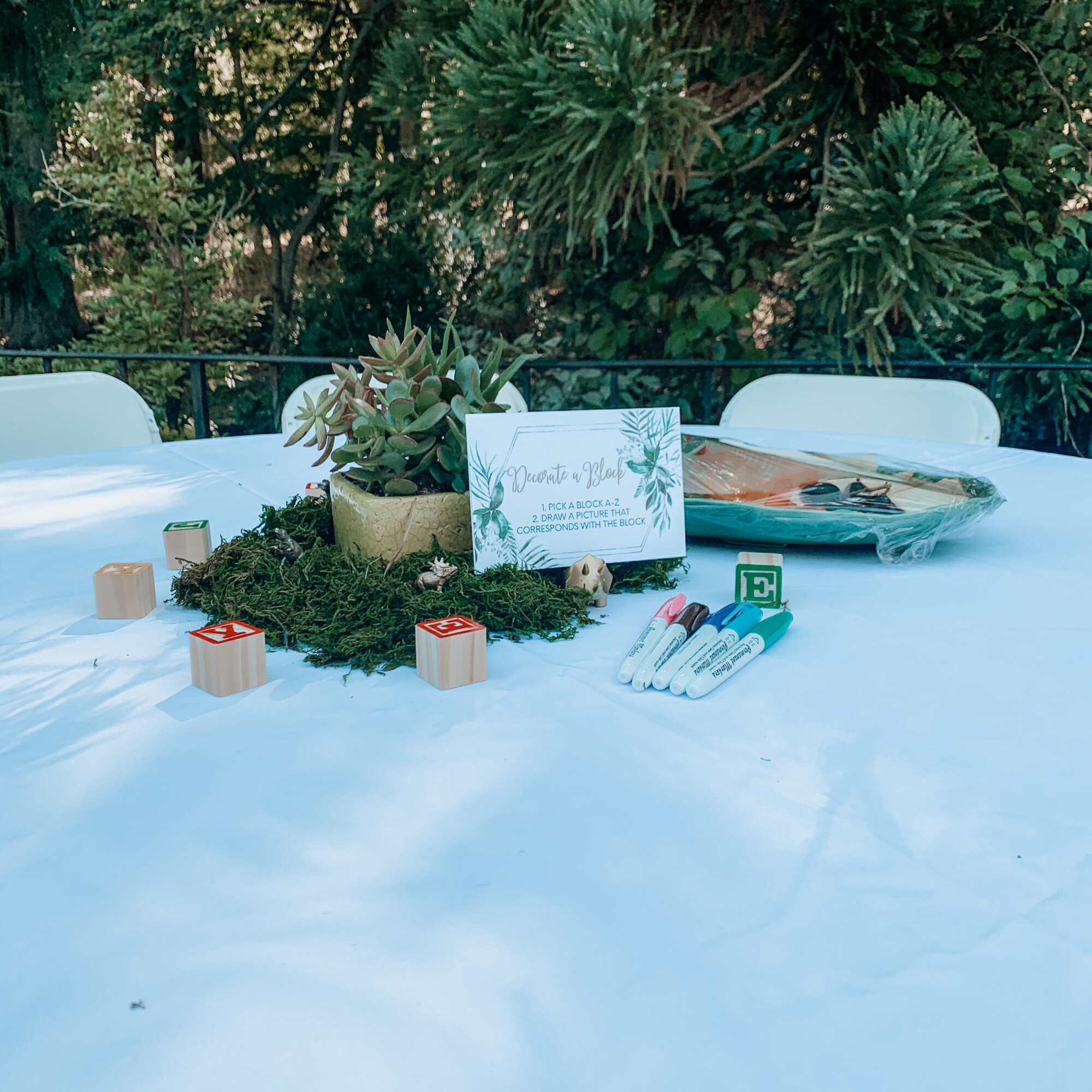 We decorated the tables and areas all over the inside and outside with moss, natural greenery, succulents, plants and spray painted dinosaurs gold. Outside basically decorated itself with nature and we decided to keep it very minimal with additional decor.
The spray paint is for crafts from the wholesale nursery and definitely recommend getting a really good, brilliant gold spray paint. Trust me, we ran out and learned the hard way.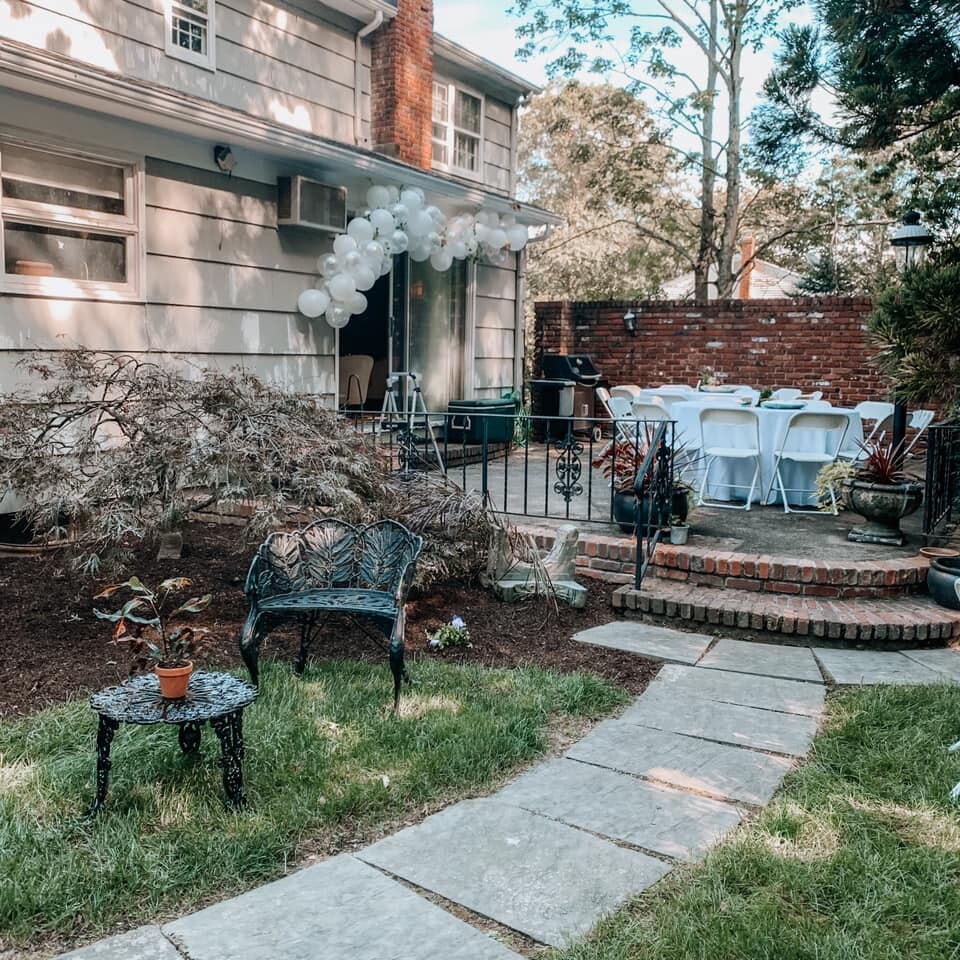 Grandma is the queen of decorating her banister.
She got all the things between the nursery, amazon and what she already had.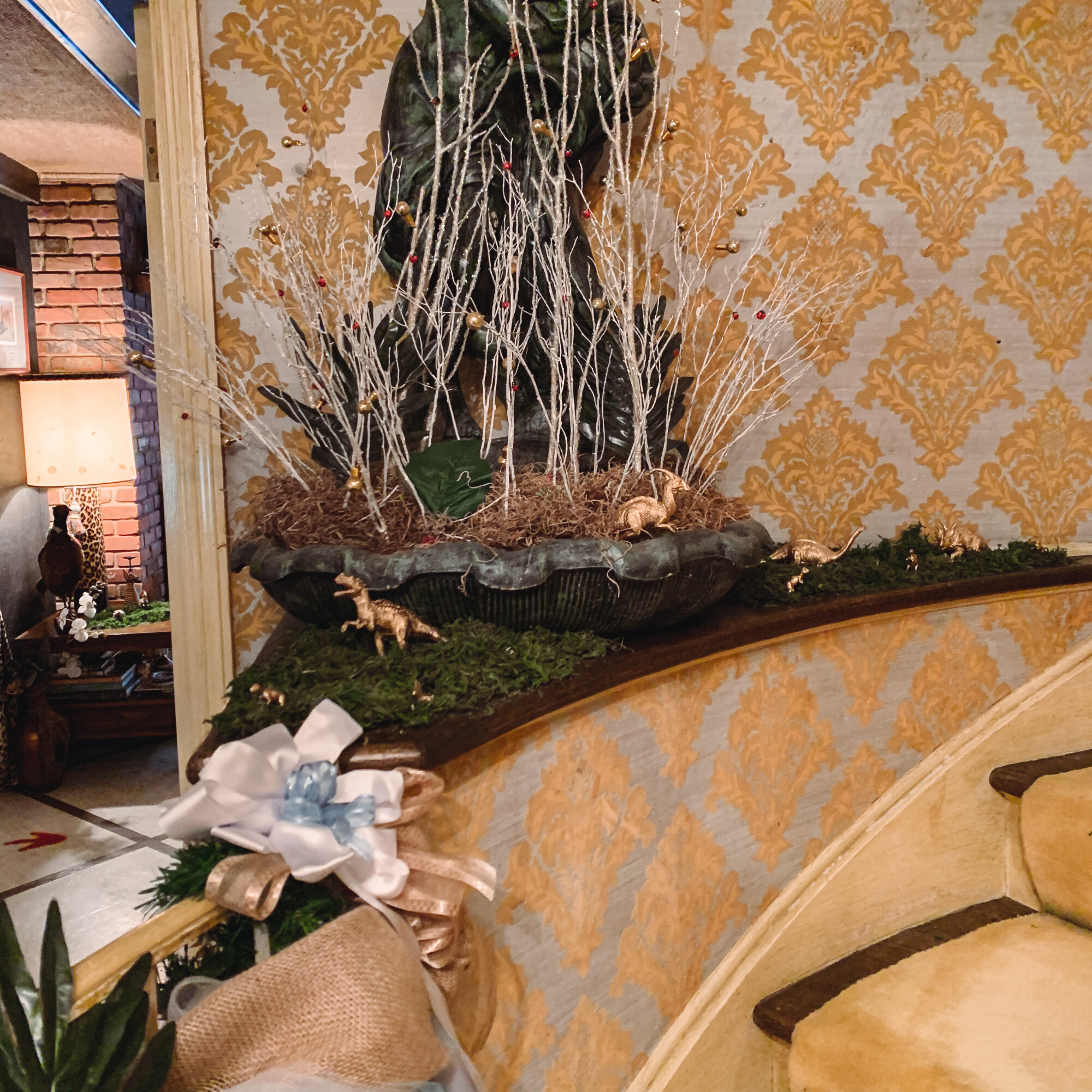 The decor was simply perfect. From the welcome to table, to the activities and the photo booth. My sister in law ran with the vision she has and picked the perfect theme.
We kept everything as simple, green and natural as possible with a splash of gold dinosaurs.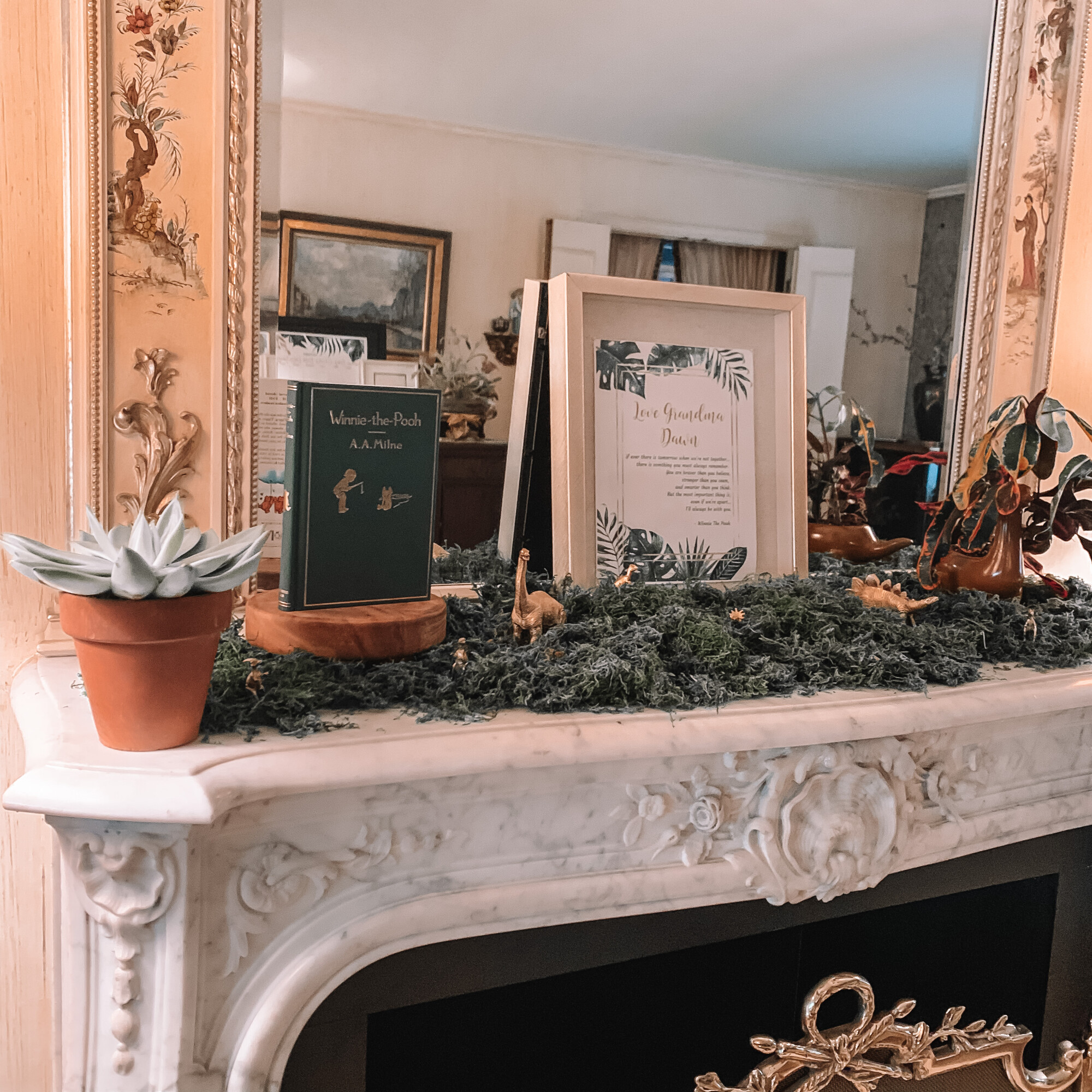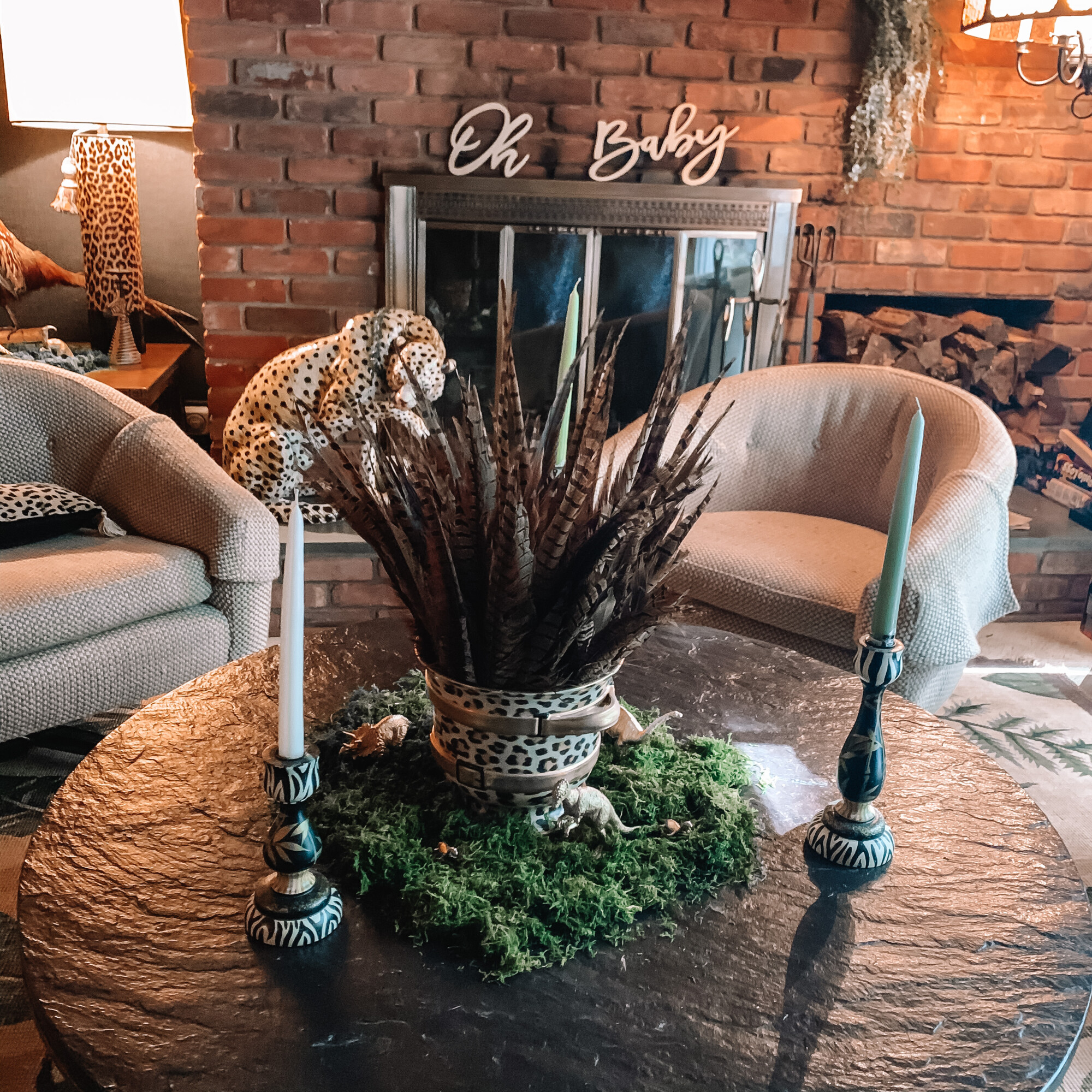 I will admit I was major bummed about covid taking away the joy of having a baby shower for so many.
When the option was up to not do a drive by but to have it outside, I was not that excited about it, I will be completely honest considering it was going to be at the end of September and weather was questionable.
I went by the farmers almanac, 3 months in advance and recommend checking it out when planning outdoor events.
Grandma sure put on some great covid touches to the party. This was the welcome table with custom made gold dinosaur masks and personal hand sanitizers.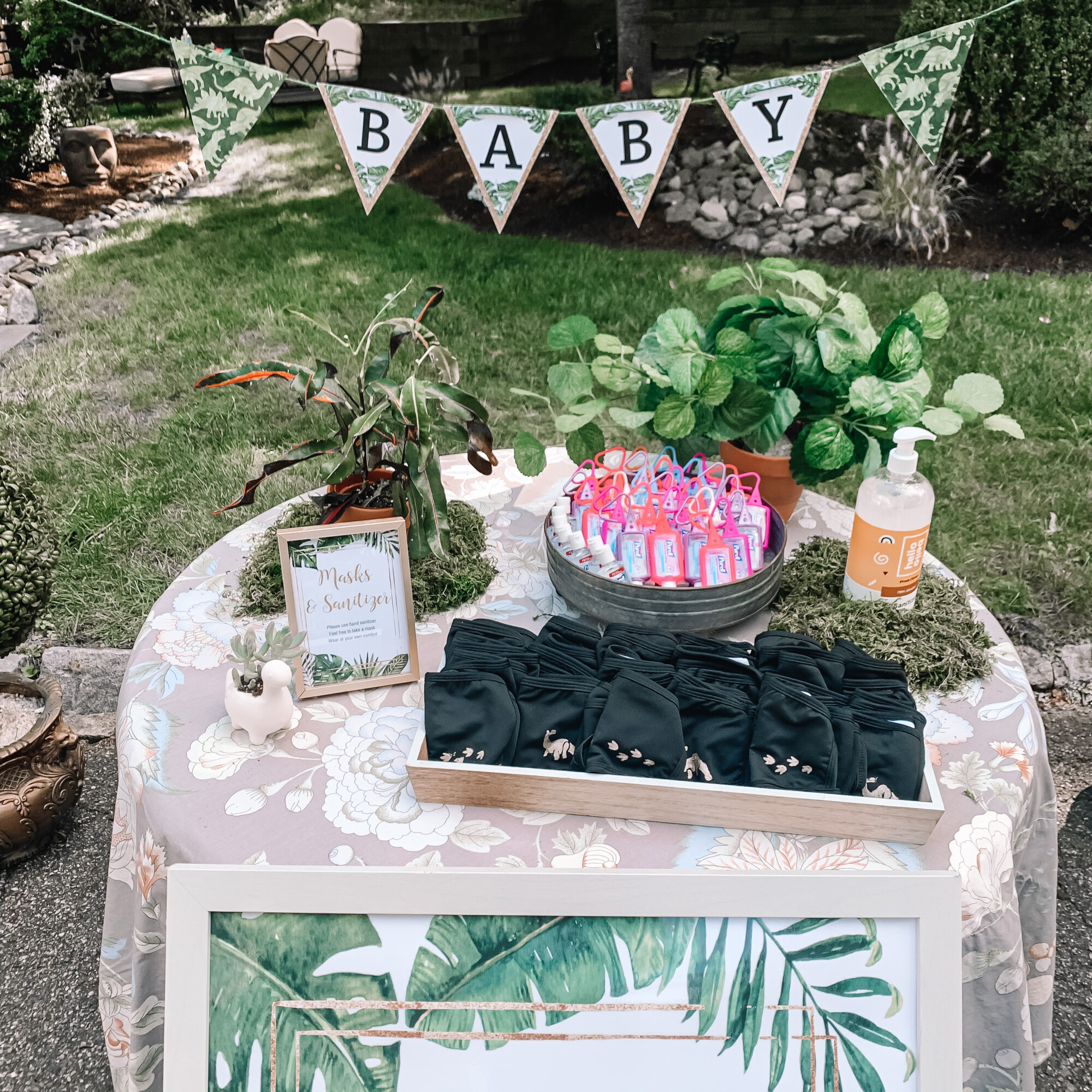 But, after all was said and done, there was no better setting than outside in the woods with all of natures beauty and greenery.
It was a beautiful sunny day, a bit chilly, but bright skies and lots of happiness.
The Activities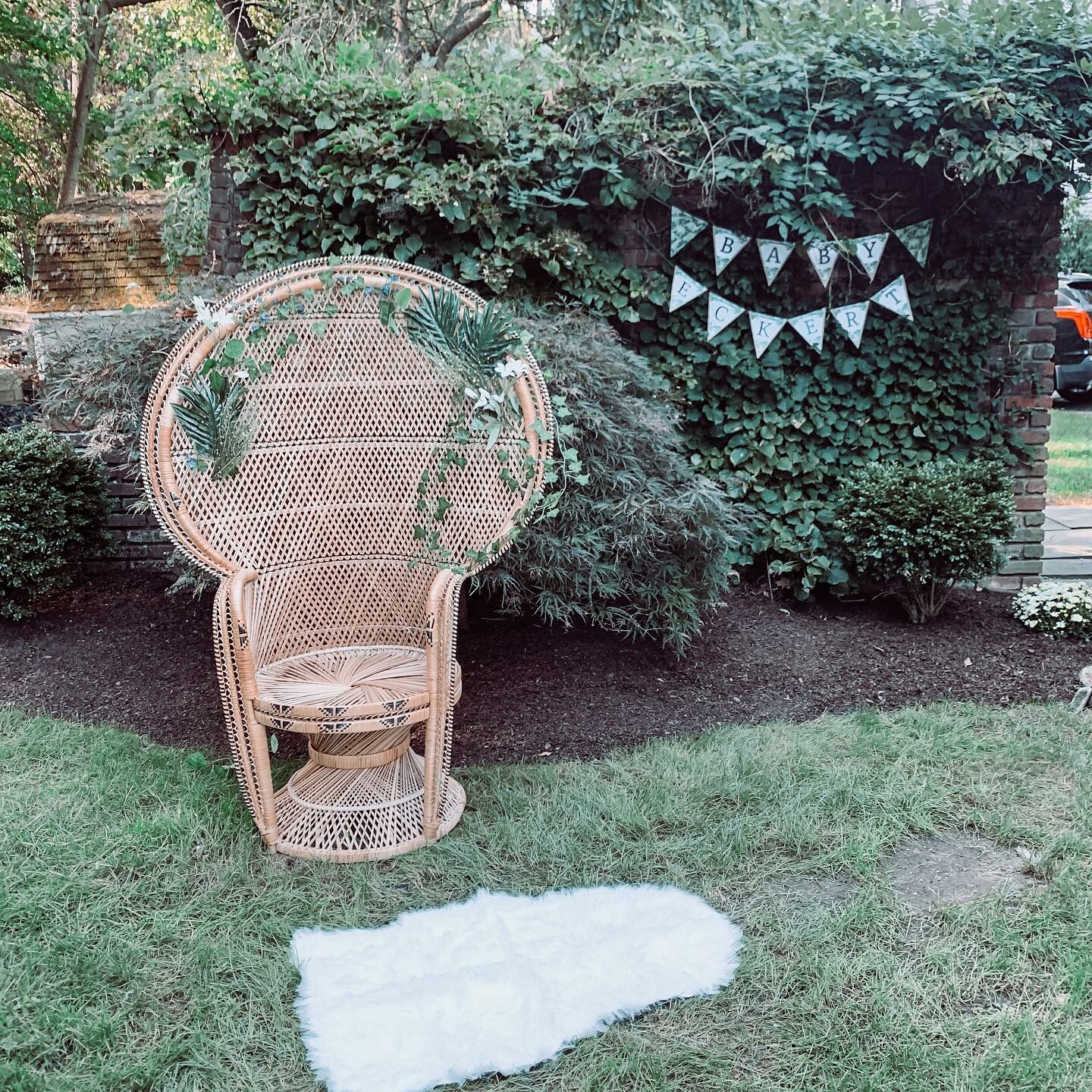 The Photo Booth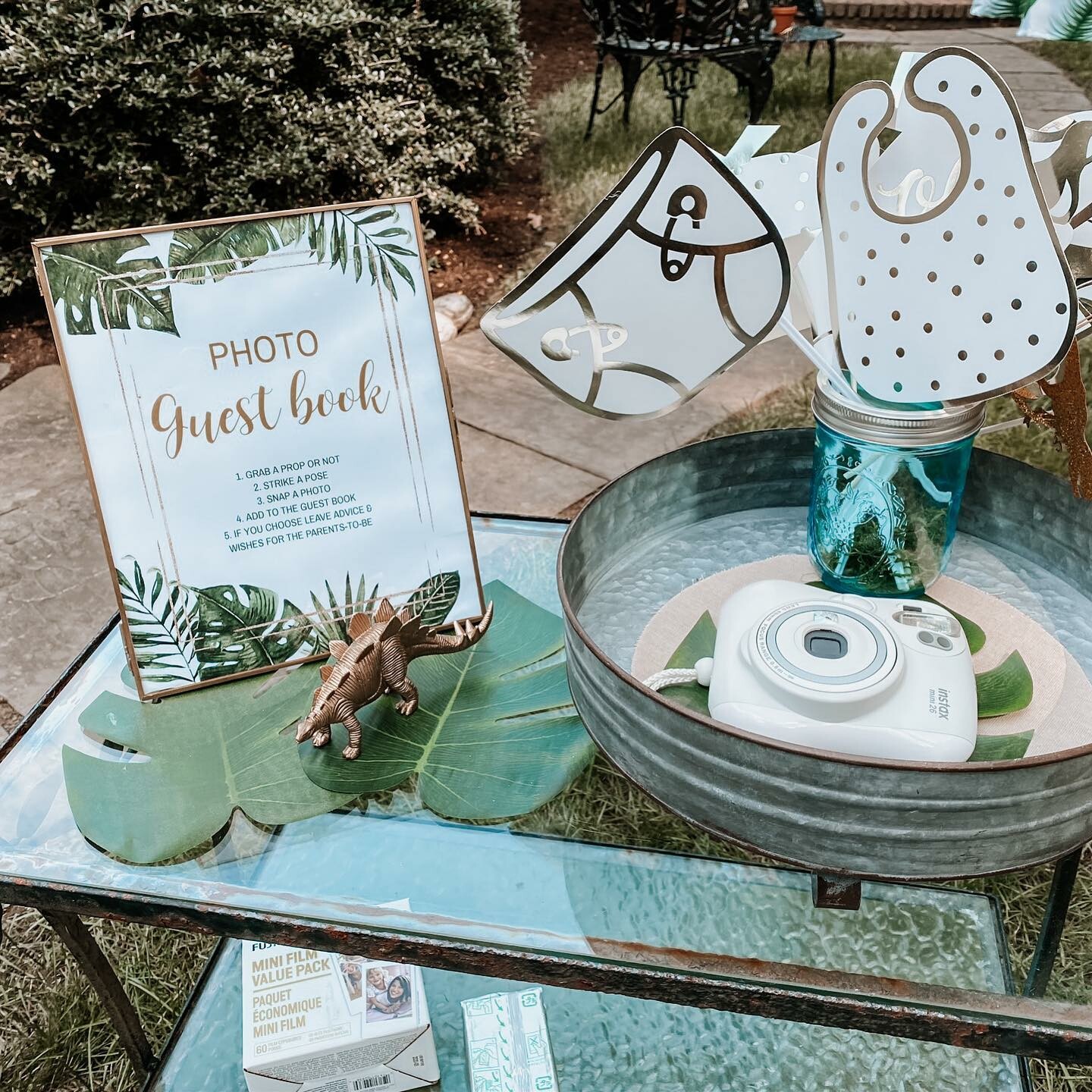 My sister in law had the cutest idea to have the photos put into the album and any words of wisdom for the parents-to-be to be written there! so cute.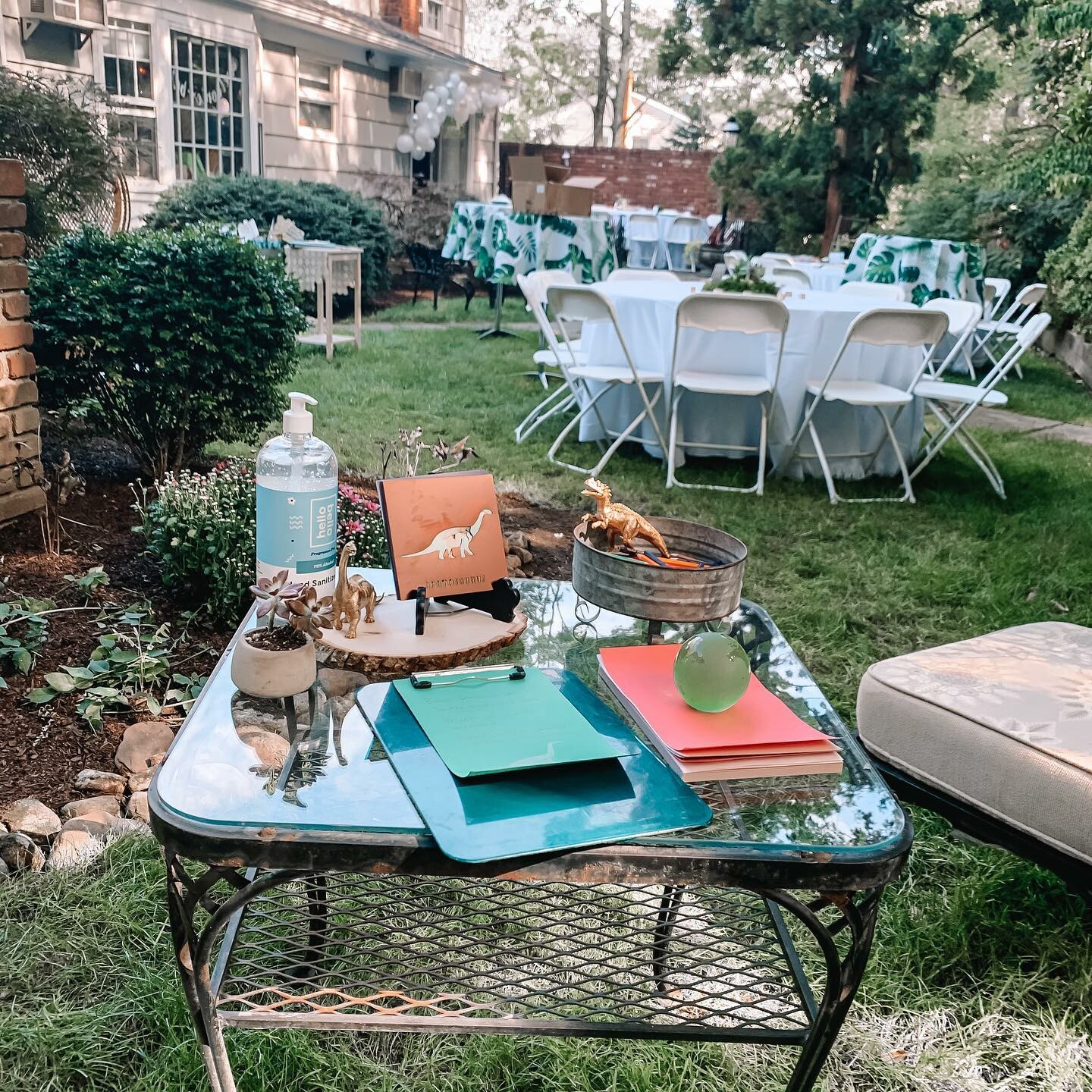 For additional entertainment, we had asked guests to help us in making a baby book for our baby boy.
In the book, the baby dinosaur travels all over the world. The places he travels to were based on our guests favorite places they had traveled. In addition, they wrote down their favorite food from there and favorite thing to do! Together, we created a global educational book for our baby boy to learn and read from.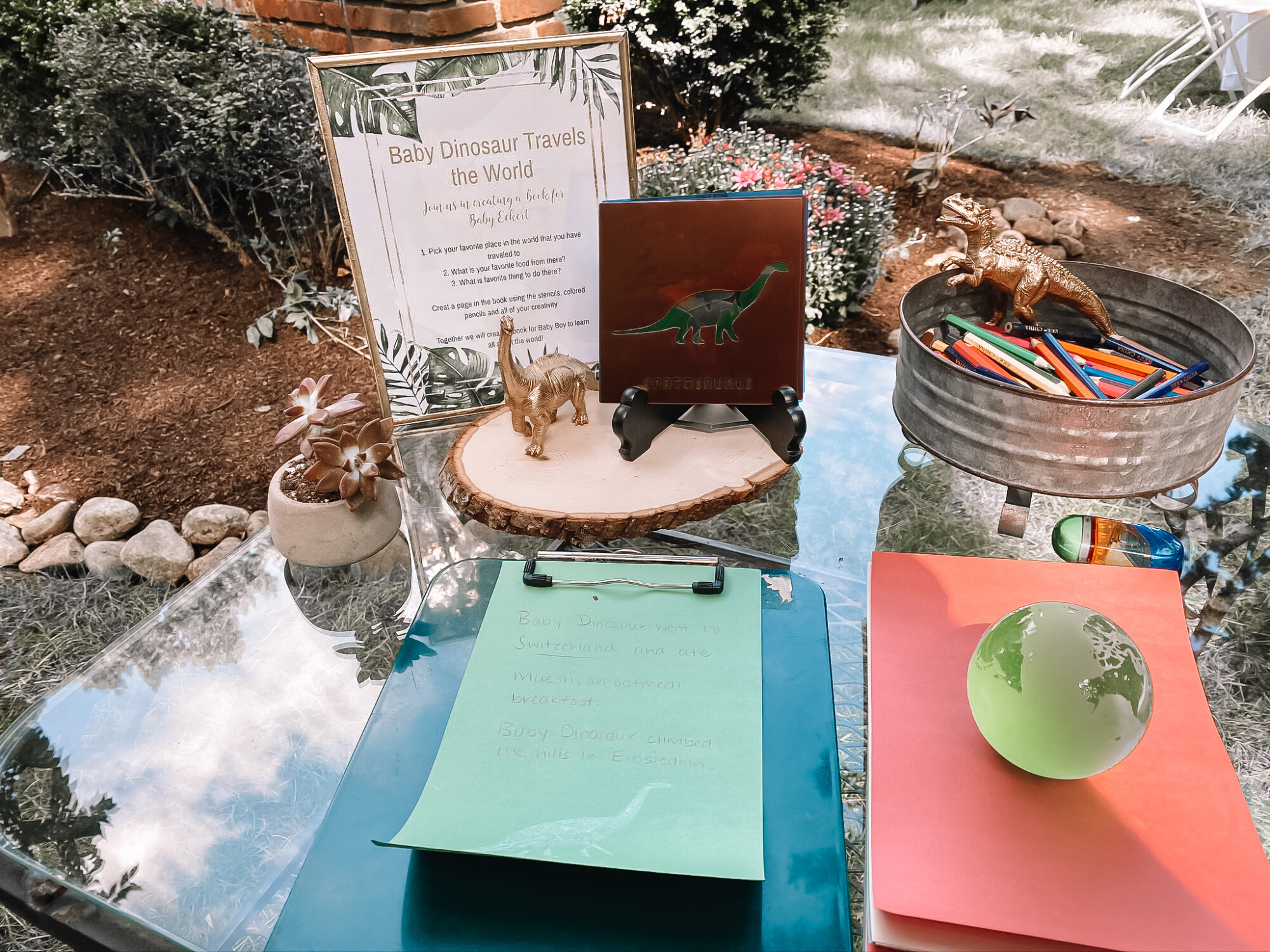 The Thank You's
My sister-in-law made the cutest Dinosaur wine glasses for each of our guests to take home with handmade wine charms by Grandma! We are currently hunting down the photo I took of them.
Grandma hand painted the masks with little gold dinosaurs and dinosaur feet for our guests to wear at their comfort. There were lots of adorable hand-made goodies to bring home to remember a great day of celebrating our baby boy.
The big take away were these adorable dinosaur planters with succulents.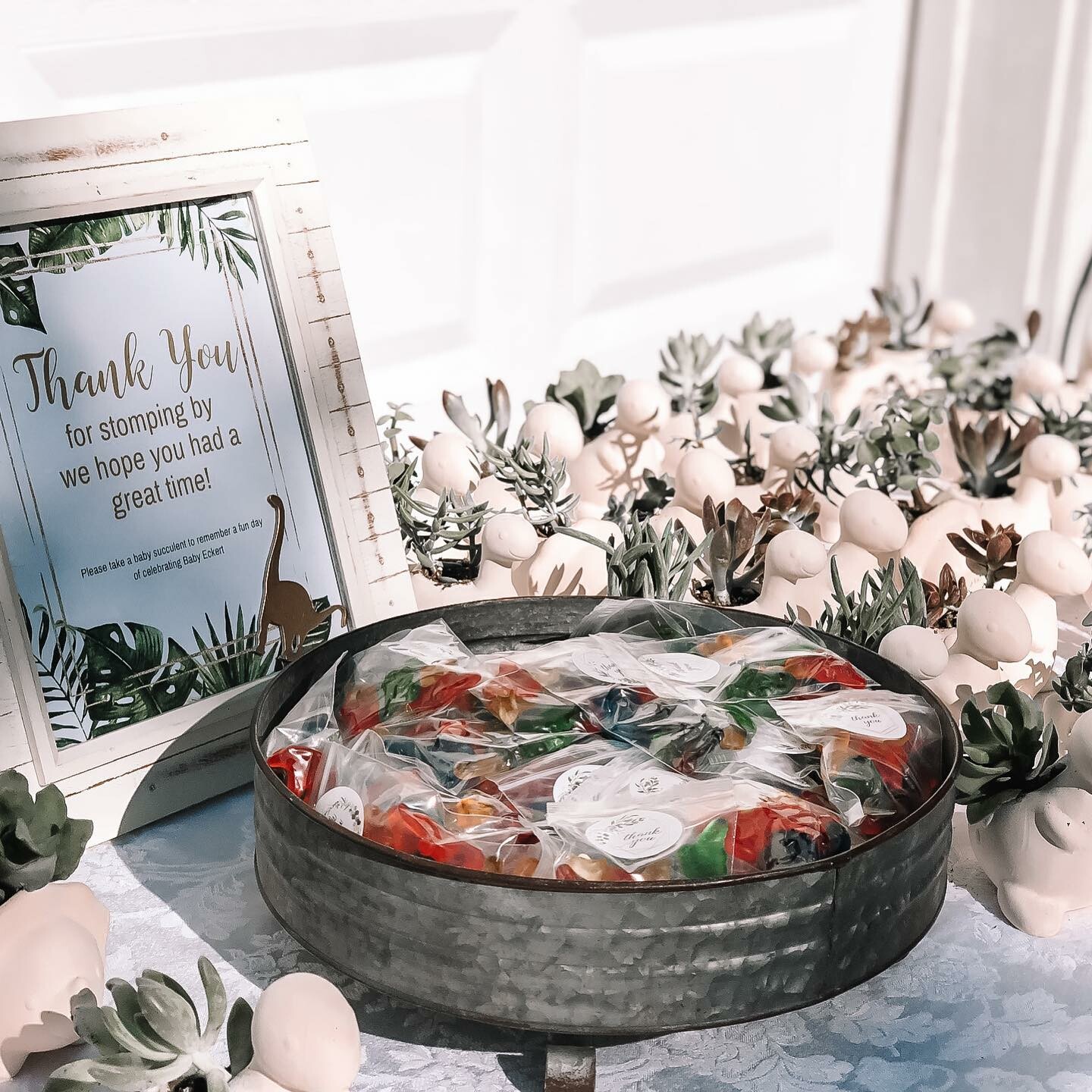 Grandma found the cutest dinosaur flower pots and we planted succulents for our guests to take home.
We also added a little car ride snack of dinosaur shaped gummy bears! Then we had little burlap bags
to carry everything home since there were multiple gifts throughout the party to take.
The Menu
The menu was simply amazing. My mom is a very good cook and loves catering all of her own events.
Karen and I stick to themes and decor and the three of us make a pretty good team together throwing some really fun and beautiful parties from shabby chic graduations to Little Lady baby showers, barnyard themes and now this!
I don't have a single picture of the food, I know crazy considering how delicious. But, we had garlic rosemary butter salmon, filet tips on garlic baguettes and chicken savoy with ceaser salad and crudités.
The drinks being served were momosa's, lemonade, iced tea, water and an assortment of wines.
Then came the desserts and they were just out of this world. I haven't had much of a pregnancy sweet tooth but I no shame devoured desserts.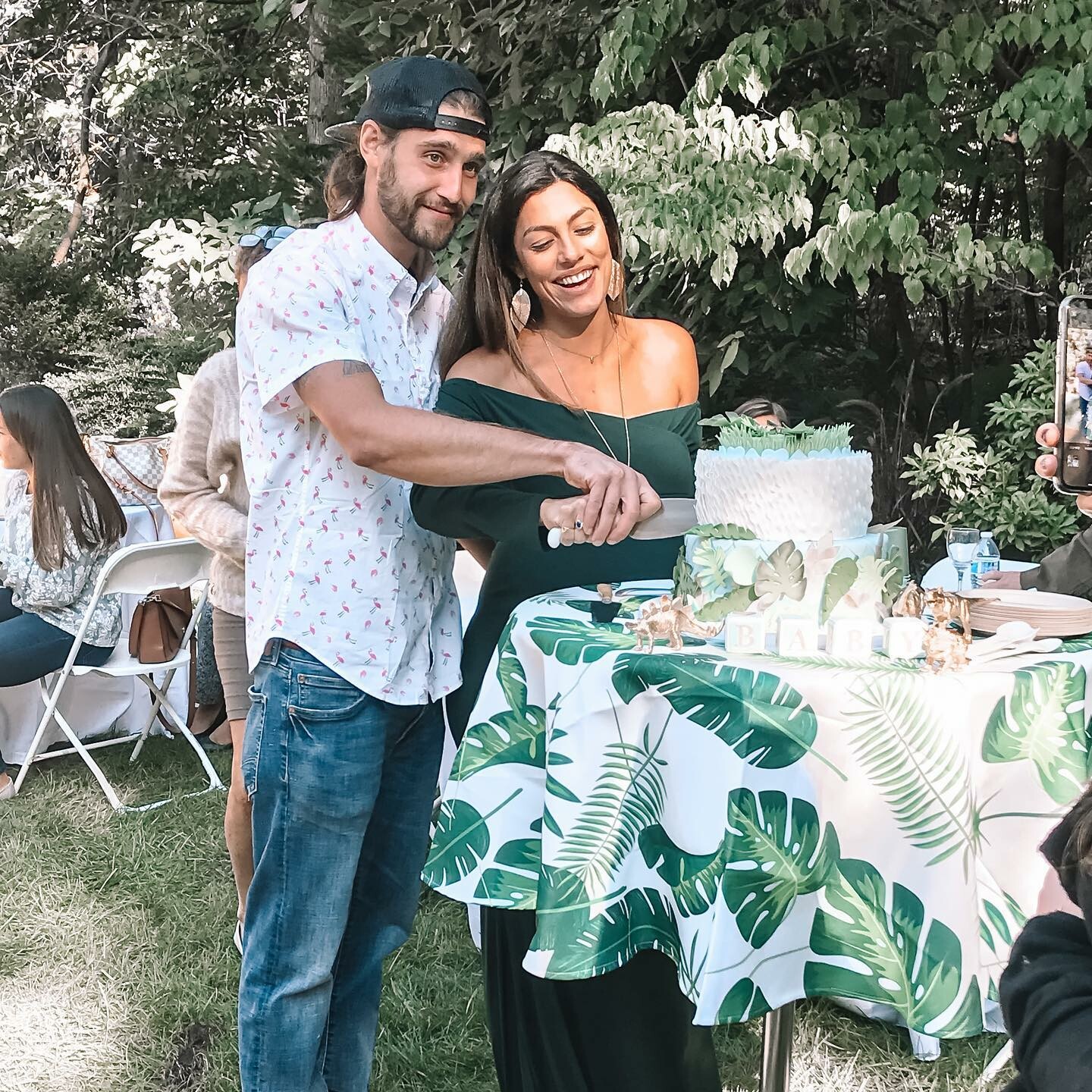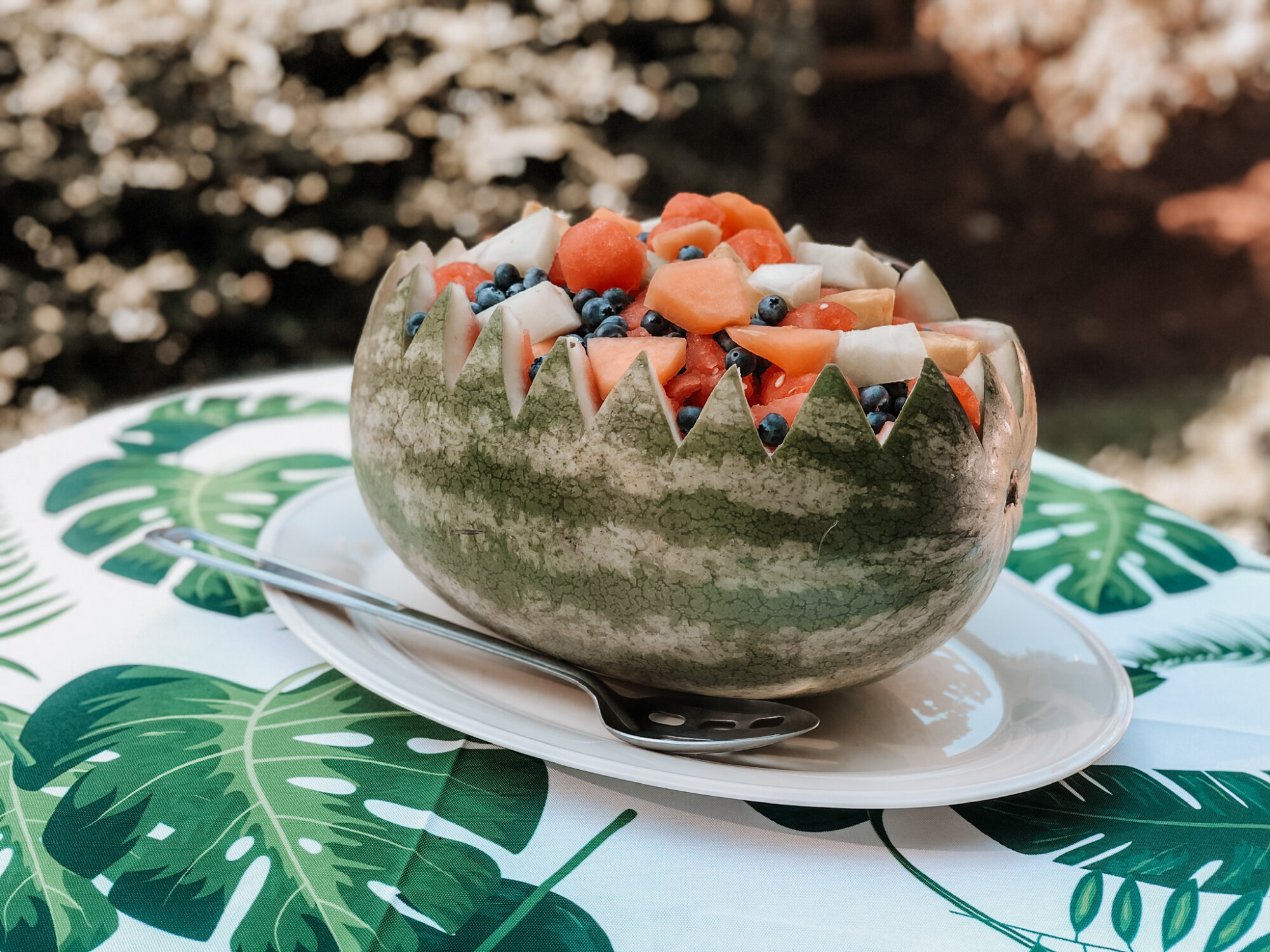 Baby boys aunt had donuts custom made from Dunkin'.
They were dipped in party colors and covered with gold and green sprinkles and were delicious.
Lex at Sugar Rush Cookie Co. (find her on facebook or instagram) is our go to for gorgeous hand crafted cookies. She is so sweet to work with and extremely talented at making beautiful and delicious themed cookies. She has made the cookies for all of our special events the last few years.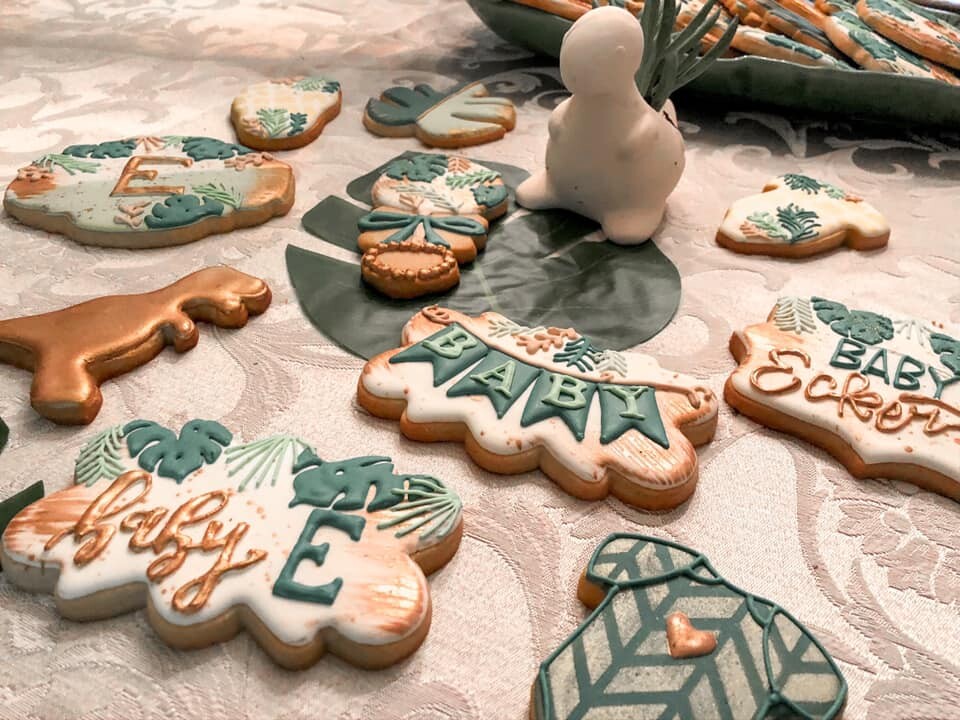 And then the cake by Lisa. Lisa, as well, has been making our special event cakes for the last few years. Her work is out of this world. You simply don't want to eat the cake because it is so gorgeous but you have to because it tastes just as amazing as it looks. The layers were red velvet and lemon, oh my!
The Prize Winners Revealed
We had a great laugh at the end of the party picking the winner for the diaper raffle.
Our little boys tush is going to be well covered for a very long time! The diapers stacked up the wall after we organized the gift room.
We were cracking up having the dad-to-be pick the winners of the Vueve Cliquot Champagne.
If anyone wants a sip, you will have to catch Danielle and Melissa!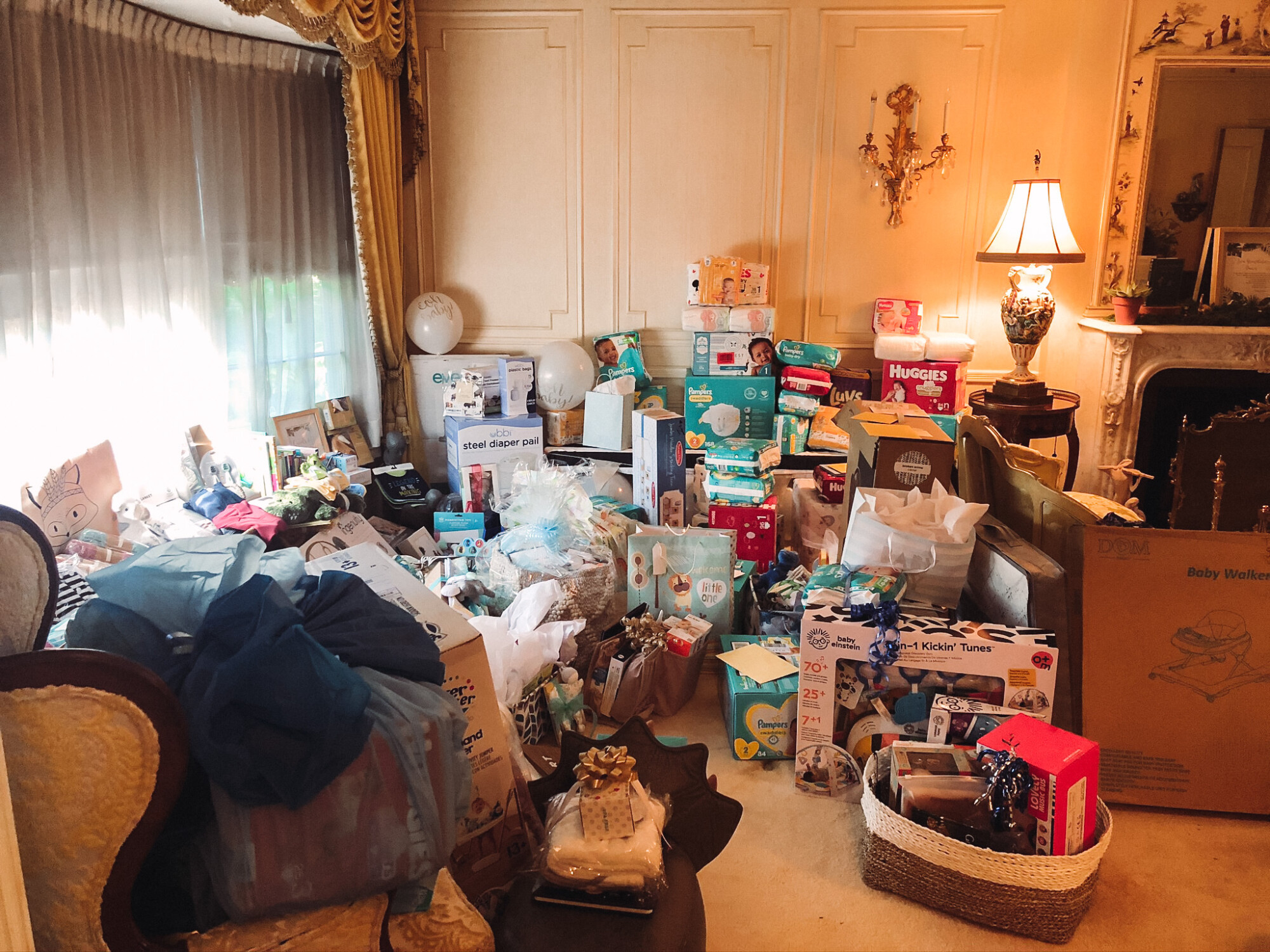 Pending winners will be announced after our baby boy arrives!
Of course we had a beautiful calendar that Karen, my sister-in-law, made.
Everyone picked their date and predicted what baby boy will be!
So excited to see who was the closest or spot on!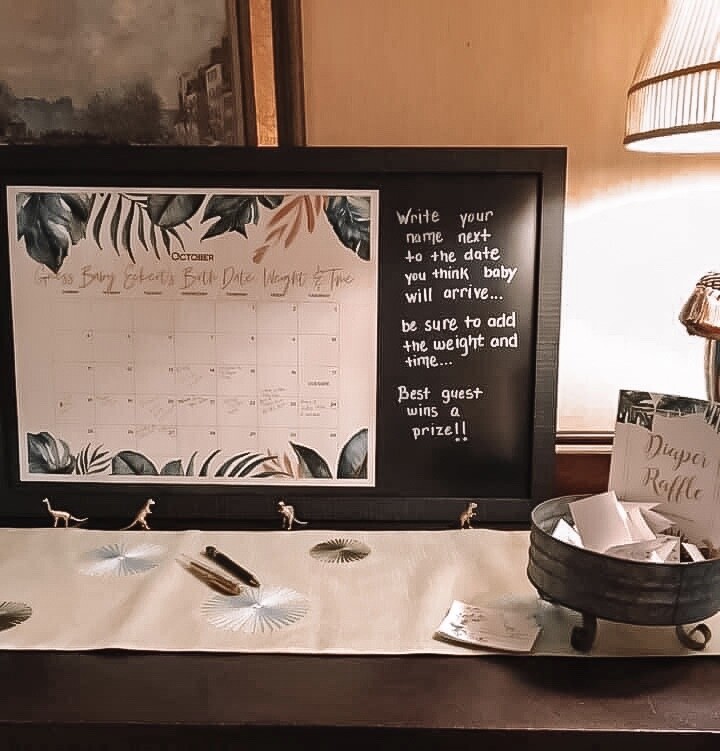 Now to get through all of these beautiful and thoughtful gifts for our son, set up his area in the house and send out our thank you's to everyone who spoiled our little man with endless love and happiness.
We are so thankful to have been able to celebrate with you all and to share our baby shower day!
Hope you had fun reading about our baby shower and or gained some inspo for your baby shower!
Mom-To-Be
Most decor came from amazon and is linked here
Wine glasses were designed and hand painted by Aunt Karen
Masks were hand painted by Grandma T
Cookies from Sugar Rush Cookie Co. are linked above